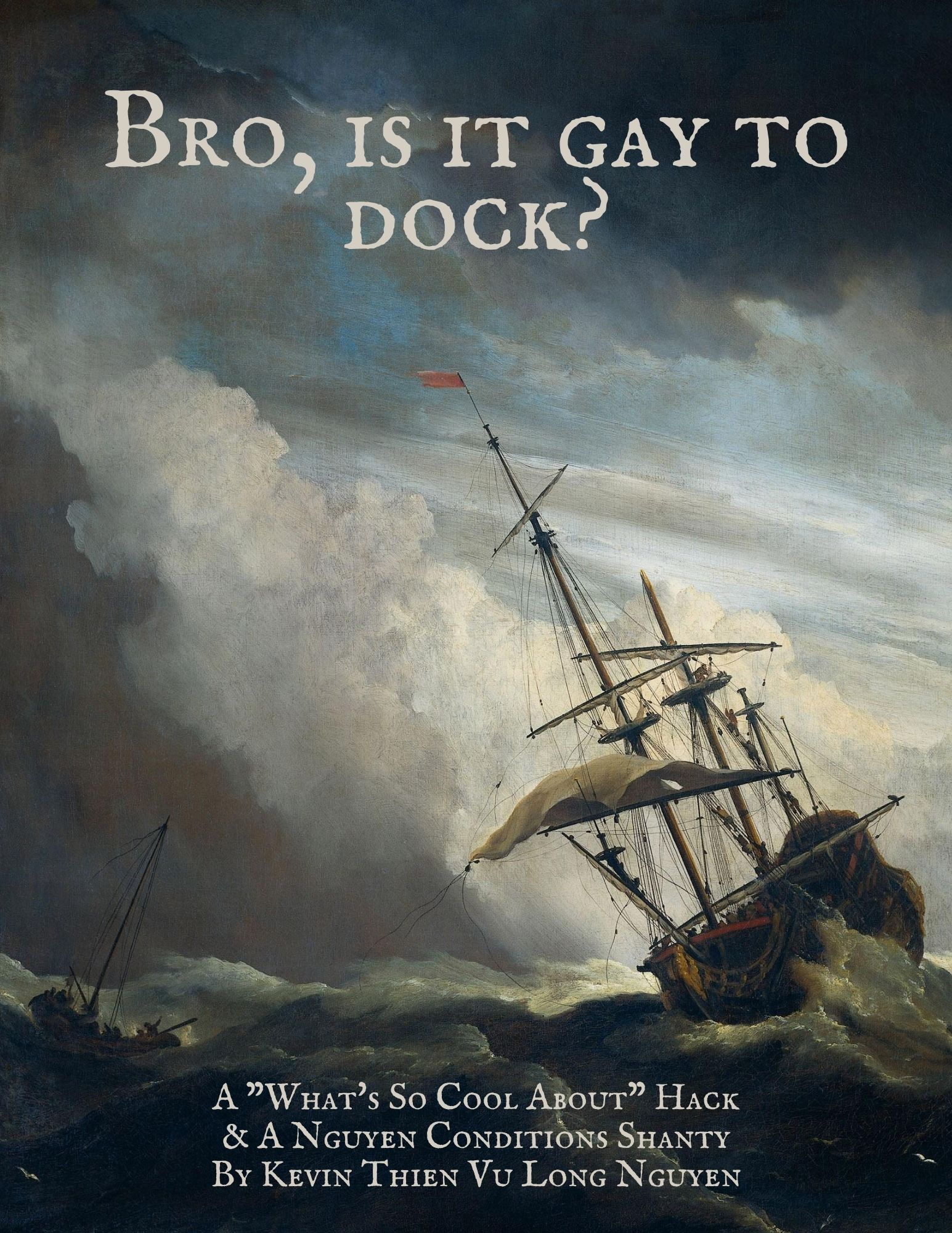 Bro, is it Gay to Dock?
In every bay is booty waiting to be dug up. On every port an Imperial waiting to bind you. Coin is cursed with more than avarice. The sea, while you love it, does not always love you back as gently. Out there is a charge & cutlass with your name on it, waiting to meet you at your final destination.
Which is all well and good! But, you're here for him. Your swashbuckling hero,
...The Legend.
Everything you heard and then some. You sail these waters together raiding caches, learning from one another, sharing drink, casting wanting glances that never catch the other's... arguing over expenses, outrunning Navy, thinking about that brief moment your handed his glanced reaching for the tiller....
Oh shit those rocks are super close!!! Cut hard to port! Better get some wind in those sails jack!
Bro, Is It Gay To Dock? is a rules light tabletop rpg for a GM and 1-4 players interested in queer high seas adventure.
Players take on the role of novice pirates who're saved and companioned by a Pirate Legend. Play mixes swashbuckling adventure with romantic tension between pirates.
In short... You meet a gay pirate. You are a gay pirate. You gay pirate together. Be Gay! Go Pirate!
Designed and expanded upon the Whats So Cool About Outer Space framework by Jared Sinclair for the What's So Cool About Jam .
Purchase
In order to download this game you must purchase it at or above the minimum price of $8 USD. You will get access to the following files:
Bro, Is It Gay to Dock.pdf
7 MB
Bro, Is It Gay To Dock.docx
217 kB
Bro, Is It Gay to Dock in Space.pdf
7 MB
Community Copies
Support this game at or above a special price point to receive something exclusive.
Community Copies
If you are interested in Bro, Is It Gay To Dock? and cannot pay the minimum listed price at this time feel free to grab a Community Copy made available with each purchase of the game.
Comments
Log in with itch.io to leave a comment.
paid for the game got the dwloads but cant interact with them is it just those 10 pages?